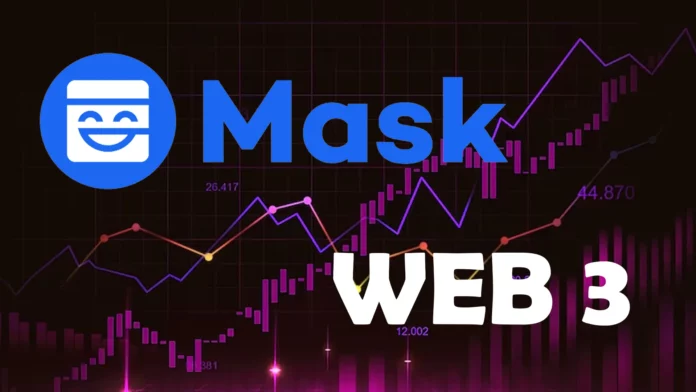 Mask networks disrupt the dominance of a few technology companies that control the activities of individuals.

It is a decentralized internet that has no censorship issues. 
Mask network extension allows users to access the world of advanced technology on the Web or Web3. It allows users to access web3 with existing mainstream platforms instead of developing new platforms or filling the gaps between Web 2 and Web 3.
Web 2, in layman's language, is "Internet", whereas Web 3 is a censorship-resistant, open Internet driven by new technological tools like blockchain. It is trying to disrupt the monopoly of technology enterprises that provide internet facilities. These companies influence people's thoughts by telling them what they should see, what they should publish, and whom they contact. 
Currently, web2 has complete control over the internet, as it can bring down any content published on the internet, in other words, users don't have control over the content that they have published. Moreover, the platform is also trying to solve other issues around social media, like users' data and actions after that to recover it.
How Does Mask Network Works?
Users can install its extension, log in with their Mask ID, and then connect their wallet to it. In this way, a user can use web2 websites with web3 technology integrated. It is supported on various blockchain networks such as Ethereum, Binance Smart Chain(BSC), Polygon, etc., and has collaborated with social media platforms too. 
Activities that a user can perform by installing the extension:
Users can hide their content and publish it to a selected audience that is interested in your published content. 

Users can send messages that need a secret key to decrypt.

Users can see the current price of the cryptocurrency without switching to a trading site. For this feature, various social media platforms need to be complemented, platforms like Uniswap, and Shushiswap added this feature to their platforms. 

Users can have their own web3 profile, which can accumulate all the data related to them, like tracking their digital assets, and NFT collection, under one roof. 

Users can trade their NFT on social media platforms. OpenSea provides this feature to its users. 

It will allow users to store their data on a decentralized network.
The utility token of the network is MASK. MASK also acts as a governance token for MaskDAO, the ecosystem of Mask's decentralized autonomous organization (DAO). Each token of MASK allows holders to vote in DAO-related activities. Additionally, it is looking forward to launching the Mask Grant Programme to enhance financial literacy among people. 
History of the Mask Network
Suji Yan is the founder of Network and the current chief executive officer of the platform. He is also a mentor at the RadicalxChange Fellowship and has co-authored various articles with RadicalxChange. 
How a Mask Token is Created and Earned
It first offered tokens to the public through the initial Twitter token (ITO). Initial Twitter Offering is a method where a company offers its token to Twitter users and they can participate in the launch offering of the token. It is a decentralized asset-offering mechanism. The network floats the information of token launches for the night prior to the occurrence of the event.     
 Conclusion
Mask Network provides a decentralized internet facility based on Web3, disrupting the control of dominant technology companies and ensuring censorship-resistant access to web platforms. Users can integrate Web3 technology into existing Web2 websites, enabling greater control over their content and interactions. The MASK token plays a crucial role in the platform's governance and utility.