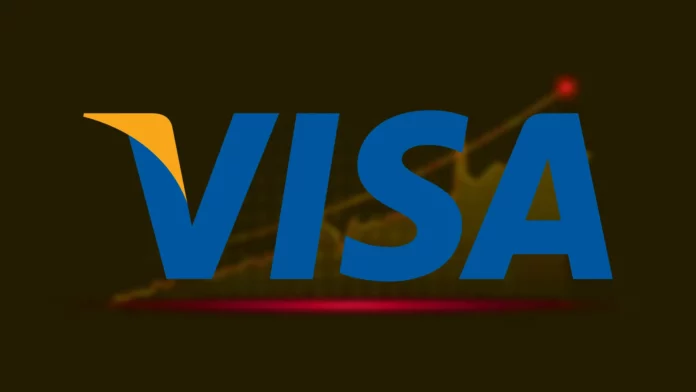 VISA stock price has sat up above the 20, 50, and 200- days Exponential Moving Average.

VISA's stock price is currently trading at $237.48.

VISA (V)'s live market cap is $476.14 billion.
The price of the VISA is trading at $237.48 showing a rise of 5.47% in three days span. By observing the price of the VISA  it is observed that the VISA stock price is in uptrend momentum. The price of VISA  made a high of $252.67 two years ago and after hitting the high, the price started to fall down upto $174.60 which is around a 30.7% fall in the span of one and half years.
The VISA bull run started in October 2022, when the price took support at the level of $174 and started forming higher lows.  In the time period of nine months, VISA did a recovery of 38% and now the price is trading only 15 points away from the all-time high. This steady recovery of VISA implicates a good sign and suggests the price is in a good rally. 
VISA (V) Stock Price Analysis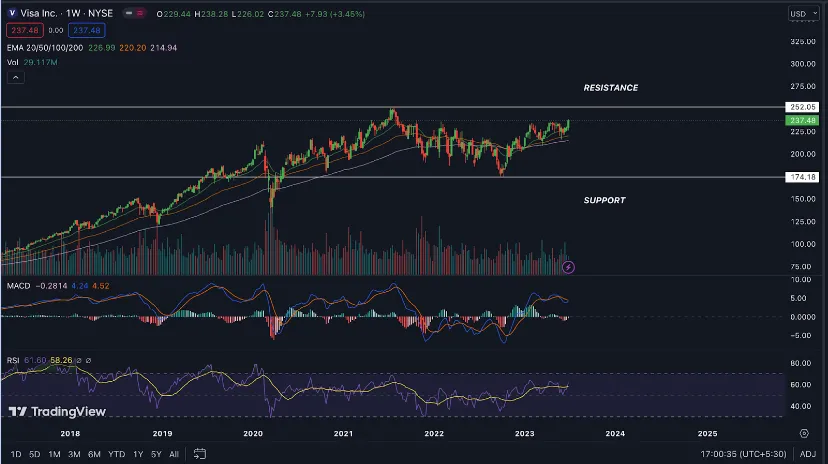 EMA
The 20, 50, and 100-day Exponential Moving Averages (EMA) for VISA's stock are lower than the price, which is a positive sign and can be a sign that the price will rise.
MACD
Together, the signal line and the MACD line, which are both placed above the zero line, produce a green histogram for the MACD indicator. This agreement heralds the possibility of a market recovery.
RSI
The fact that VISA's Relative Strength Index (RSI) has not yet entered the overbought region is additional proof that there may still be room for a price rise in the near future.
VOLUME
The volume for VISA inc as seen in the chart seems to be increasing which suggests that there is the presence of buyers from the below levels suggesting there is potential in the VISA stock, which is a positive factor and price might touch the new higher levels.
Conclusion 
In conclusion, by the analysis of the price of VISA's stock signifies the positive signs, with the prediction of more price growth in the near term. 
When taking talking about the indicators, such as the favorable EMA placement, the bullish MACD configuration, and the lack of overbought circumstances in the RSI, we can depict that the overall momentum of the price of VISA stock is in an uptrend direction and we can expect a good growth shortly.
Technical Levels
Support

– The current support level of VISA (V) is $174.18.

Resistance

-The current resistance level of the VISA (V) is $252.05.
Disclaimer
The views and opinions of the author, or anyone named in this article, are for informational purposes only. They do not offer financial, investment, or other advice. Investing or trading crypto assets involves the risk of financial loss.