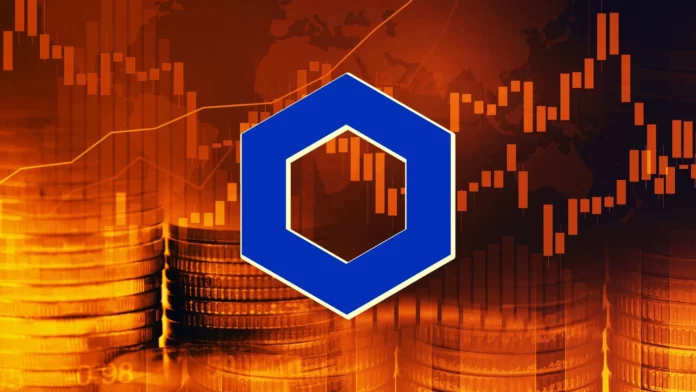 ChainIink (LINK) price witnessed an increase in buying volume.

LINK price is sustaining above the 20-day, 50-day, and 100-day EMA levels.

LINK price is fresh higher high and gave a breakout with very good volume.
ChainIink (LINK) is one of the most popular cryptocurrency or decentralized Oracle networks. It aims to connect blockchain smart contracts with real-time data sources, APIs, and legacy financial systems. Chainlink was co-founded in 2017 by Steve Ellis and Sergey Nazarov.
As per the current market scenario in a daily timeframe, the price of Chainlink (LINK) coin is showing uptrend momentum.
The price of ChainIink made a high of $53 in May 2021 and after that the price started falling. The price fell by -90% in one year and took support at the $5.4 level.
The price tried to break the resistance level of $8 multiple times but failed. It consolidated in the horizontal range for around 13  months and now the price has given a breakout with very good volume.
The price of LINK has shown a growth of 25% in the last three trading days. Currently, the price is forming a bullish structure and the price is likely to rise in the upcoming days.
Chainlink (LINK) Price Analysis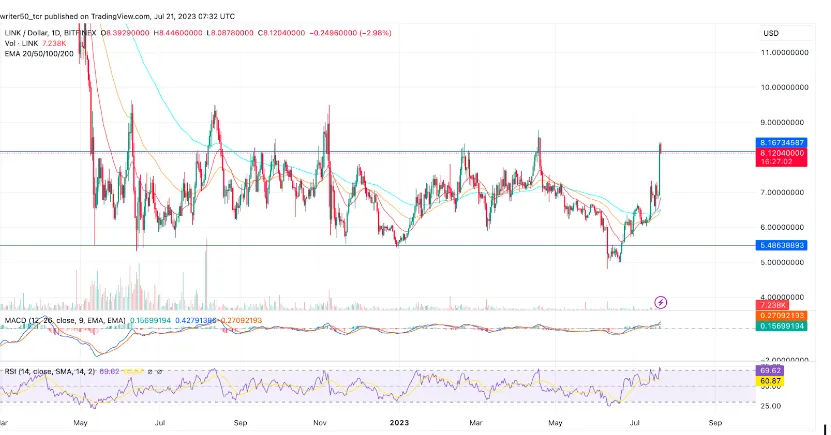 EMA
On a daily basis, Chainlink's price is trading above both the 20-day and 50-day exponential moving average (EMA), which is a bullish signal. Chainlink price is gaining bullish momentum and buying-side investor sentiment.
MACD
The MACD indicator is also bullish and provides a bullish signal in the daily time frame. The MACD indicator is 0.47, and the signal indicator is 0.29, both above the 0 line. MACD is positive and will provide bullish movement. 
Volume Analysis 
Chainlink's (lLINK) trading volume in 24 hours is $1.568.330.105. This is an increase of 385% in just 24 hours. This demonstrates the current level of market activity. The fact that the volume is increasing indicates that investors are becoming more interested in the coin.  Therefore, it is likely that the price will increase soon.
Conclusion
In conclusion, the study shows that the price of Chainlink (LINK) is exhibiting signs of positive momentum which might favor the price to increase in the future. The formation of a stronger price structure and the existence of advantageous indicators like MACD, RSI, and EMA are principally responsible for the bullish signals. Collectively, these technical indications support the idea that LINK may be in an uptrend.
Technical Levels
Support Level

– $5.4

Resistance Level

– $8.1
Disclaimer
The views and opinions of the author, or anyone named in this article, are for informational purposes only. They do not offer financial, investment, or other advice. Investing or trading crypto assets involves the risk of financial loss.